Water Softener & Filtration Salesman – Part 3
Time to close the deal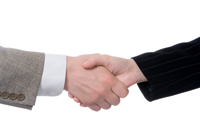 The water filtration sales pitch has come down to the end. At this time the water filtration salesperson will go over the monthly savings chart with you and explain what your costs are now and what they would be with the proposed water filtration system installed. Most potential customers will have been asked the question, "other than money, is there any other reason why you wouldn't want to do this?" This question, with the aid of the survey sheet filled out earlier, leads a lot of people into a situation where they end up with a large monthly payment for the next 5 years.
If you were in this situation you might think it'd be a good idea if it could fit in your budget, which is a reasonable thought. So, you tell the water filtration salesperson yes…
The following would then happen:
Water Filtration Sales Person: So… it seems as if you are spending around $140 a month with your raw water right now. This isn't even including the wear and tear costs on plumbing, appliances and clothing you agreed upon earlier. Going over the results, do you feel confident once again on the numbers we put down?
You: Um, yes I guess-
Water Filtration Sales Person: We showed you earlier how you would save the money. You can see that with our water conditioner installed, you'd save around $99 a month! In reality having this water filtration system will only cost you about $41 a month. We spoke earlier and you said if we can fit this into the budget (remember that?), you would love to have this quality of water. Can you find the $41 a month to have this water system installed?
You: Hm…
Now comes the doozy. Below is an example of a quote sheet that many will write out on a simple legal pad (which, in most cases, they will take with them if you don't buy):
| | | |
| --- | --- | --- |
| Total cost of Water Filtration System: | $6,700.00 | Wow, what happened to that $41? |
| 10% Discount: | $670.00 | There are usually many different reasons for this discount, most of which help them sell, for example: "10 percent discount if we install tonight, since we're in the area anyways…" |
| Total Cost: | $6,030.00 | |
Payments
| | |
| --- | --- |
| Monthly Payment | $140.00  (5 years + high interest) |
| Monthly Savings | $99.00 |
| Real Payment | $41.00 |
I hope you like smoke and mirrors, because that's what your getting. The bottom line is your paying THOUSANDS of dollars for a water filtration system. If you take the monthly payment option, you're shelling out $100 – $150 a month (after a high interest loan). This is real money that comes out of your account each month. The savings for the most part are true, but why not take those savings and actually do that and save. The water filtration systems are usually high quality, but the price is absolutely insane.
We recommend having your water independently tested, then give us a call at 800-684-0979. We'll take those results and give you the best recommendation possible and never ask you for a order. Best of all, if you decide to do business with Budget Water, you will ACTUALLY save thousands of dollars and have premium quality equipment that is properly sized and guaranteed to work. We have top warranties, real money back guarantees and top notch tech support 7 days a week, even on Holidays!
Side note: Many of these systems for $6700 are simply a water softener, some sprinkle with carbon and call it a conditioner. Please check out this link on how this is a marginal practice: https://waterfiltersofamerica.com/carbon_sprinkling.htm To also put the cost in perspective, this water filtration system was $6030, the same size unit from Budget Water would cost $558. Our customers would save over 5 thousand dollars for the SAME system. Anyone up for one heck of a vacation?
-Water Filtration Wizard