Water Filtration Systems – WaterFiltersOfAmerica.com Vs. Big Box Store
Every day we get calls from people asking what the difference is between our water filtration systems and those of Big Box Stores.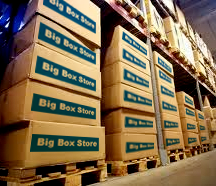 The difference is that we sell quality water filtration equipment and we know all about the equipment we sell. We find it funny that these Big Box Stores stores sell their own version of water filtration equipment, but also have an affiliation with a separate in-home water filtration sales company that sells units for thousands of dollars on average. At the Big Box Store, if you sign up for a free water test there is a good chance that at a later point, you will have someone at your house that doesn't work for the Big Box Store, but for one of these separate in-home water filtration sales companies and they'll most likely be there for hours doing a dog-and-pony show. If the equipment these Big Box Stores sold at the store was of high quality, why on earth would they have a SEPARATE company come out to sell you something? The answer, in our opinion, is the in-home sales company sells the customer a premium system (highly overpriced) and the customer will remember the Big Box Store even though they didn't sell them the system. These Big Box Stores get a nice kick-back on each unit the in-home water filtration sales company sells as well. WaterFiltersOfAmerica.com® sells the same premium equipment for thousands less and our prices are usually better then the price of the marginal equipment sold inside the Big Box Store.
Makes you think a little.
Something else to think about, when a new Big Box Store opens in an area do you think they put ads in the newspaper for a water quality expert? They hire good people and put them in the department they know the most about. If you go to a Big Box Store for a water filtration system, you're most likely talking to someone who knows a lot about plumbing, not about treating water issues. When it comes to water treatment you can't take a cookie-cutter approach.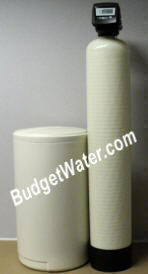 You can buy a small softener big enough for two people for as little as $319 at WaterFiltersOfAmerica.com®. You can get a top of the line digital "On demand" unit for $429.
These units are far superior to the low quality cabinet models you buy at the Big Box Stores. Those units generally have the electronics in the same container as the water and salt, which is a highly corrosive environment. The average life expectancy on those units seems to be from 6 months to 2 years before customers start reporting problems. Our average life expectancy on our top of the line name brand component units mentioned here is 25 to 35 years. The average first call for assistance is 14 years. 90% of all issues can be resolved in few minutes over the phone with no service call or replacement parts needed. In fact, our customers should virtually never need a service call as all of our units are made with only the finest easy to replace components. On top of that, we offer lifetime phone support privileges, even on Sundays and Holidays! . Try getting help from these Big Box Store suppliers on a weekend (If you can even figure out how to contact them!).
If you want to have some fun call a Big Box Store and say you bought a water softener there and you need someone to fix it. The answer might get you thinking… Then call us and say you are a customer and need to speak with a tech. If you really want to have fun with it, call us both on a Sunday evening at dinner time. It will likely make your decision quite easy. Our customers have access to a private installation site complete with pictures and instructions, along with 7 day phone support. Our techs won't let you mess it up! They are number one in the world for customer service. If you don't want to install the equipment, a handy friend could do the job, even if he has never plumbed before! If none of that works for you we can almost always recommend someone to you in your area that has helped other customers install.
When it comes to Water Filtration Systems, WaterFiltersOfAmerica.com® beats a Big Box Store ANY day of the week. Call us and find out more 1-800-684-0979.
-Water Filtration Wizard